In today's digital age, having a well-designed hotel website is crucial for establishing a strong online presence and attracting potential guests. A visually appealing and user-friendly website serves as a powerful marketing tool, allowing hotels to showcase their unique offerings and engage with their target audience effectively. However, achieving an exceptional website requires the expertise of a professional hotel web design company like ACE Amaze.
ACE Amaze understands the significance of a well-designed hotel website in driving bookings and maximizing revenue. As a leading hotel web design company, they specialize in creating captivating online experiences that captivate guests from the moment they land on the website. With their extensive knowledge and experience in the hotel industry, ACE Amaze knows exactly how to tailor website designs to meet the specific needs and expectations of hoteliers.
Choose the Best Hotel Web Design Company: Elevate Your Online Presence with Ace Amaze
Elevate your hotel's online presence with ACE Amaze, the best hotel web design company. We specialize in creating customized and visually stunning websites that reflect your unique identity. With expertise in responsive design, SEO, and user experience, we ensure seamless integration and provide ongoing support. Enhance your hotel's digital success with ACE Amaze.
II. Understanding Your Hotel's Needs
Before embarking on the journey of selecting a hotel web design company, it is crucial for hoteliers to have a clear understanding of their hotel's branding and target audience. ACE Amaze works closely with hoteliers to assess their unique identity, brand positioning, and desired market segment. By gaining a comprehensive understanding of these factors, ACE Amaze can create a website design that aligns with the hotel's branding and resonates with its target audience.
Additionally, ACE Amaze helps hoteliers identify specific goals and objectives for their website. Whether the primary focus is driving direct bookings, enhancing the guest experience, or improving online visibility, ACE Amaze collaborates with hoteliers to set clear objectives that guide the web design process.
III. Key Factors to Consider
A. Expertise and Experience
One of the key factors to consider when selecting a hotel web design company is their expertise and experience in the industry. ACE Amaze possesses in-depth knowledge of the hotel sector, having worked with numerous hotels of various sizes and styles. Their portfolio showcases successful website projects, and case studies highlight the positive impact of their designs on hotel businesses. By choosing ACE Amaze, hoteliers can leverage their industry-specific experience to create a website that truly stands out.
B. Customization and Personalization
ACE Amaze understands that each hotel is unique and deserves a website that reflects its individuality. They excel in customizing and personalizing website designs to match the hotel's branding, ambiance, and desired guest experience. With their meticulous attention to detail, ACE Amaze ensures that every aspect of the website design, from color schemes to imagery, resonates with the hotel's unique identity, leaving a lasting impression on visitors.
C. Responsive and Mobile-Friendly Design
In an era where mobile devices dominate internet usage, having a responsive and mobile-friendly website is crucial for hotels. ACE Amaze prioritizes the creation of mobile-responsive websites, ensuring that the website adapts seamlessly to different screen sizes and devices. By providing a consistent and user-friendly experience across desktops, smartphones, and tablets, ACE Amaze helps hotels capture the attention of potential guests on any platform.
D. Search Engine Optimization (SEO) Considerations
A well-designed hotel website should not only be visually appealing but also search engine optimized to enhance its online visibility. ACE Amaze incorporates SEO best practices into the website design, optimizing website structure and content to improve organic search rankings. By ensuring that the website follows industry standards and guidelines, ACE Amaze helps hotels attract more organic traffic and increase their chances of being discovered by potential guests.
E. User Experience (UX) Design
User experience plays a pivotal role in determining the success of a hotel website. ACE Amaze excels in creating intuitive navigation and user-friendly interfaces, ensuring that visitors can easily find the information they need and navigate through the website effortlessly. Their expertise in UX design extends to optimizing booking and reservation processes, streamlining the guest's journey from browsing to completing a reservation.
F. Integration and Compatibility
ACE Amaze understands the importance of seamless integration with various hotel systems and third-party tools. They specialize in integrating hotel websites with booking engines and property management systems, ensuring a smooth booking experience for guests. By seamlessly connecting the website to these systems, ACE Amaze enables real-time availability updates, streamlined reservation processes, and accurate pricing information, enhancing guest satisfaction and reducing manual effort for hotel staff.
Furthermore, ACE Amaze ensures compatibility with a wide range of third-party tools and platforms that hoteliers may utilize. Whether it's integrating with review platforms, social media channels, or email marketing software, ACE Amaze ensures that the website design allows for easy integration and harnesses the power of these tools to drive engagement and conversions.
G. Support and Maintenance
Choosing the right hotel web design company involves considering the level of support and maintenance they offer post-launch. ACE Amaze provides comprehensive support and maintenance services to ensure the website operates smoothly and efficiently. From regular updates and security patches to technical assistance, ACE Amaze is dedicated to keeping the website running optimally and addressing any issues promptly. Their proactive approach allows hoteliers to focus on their core business while having peace of mind knowing that their website is in capable hands.
IV. Evaluating Potential Hotel Web Design Companies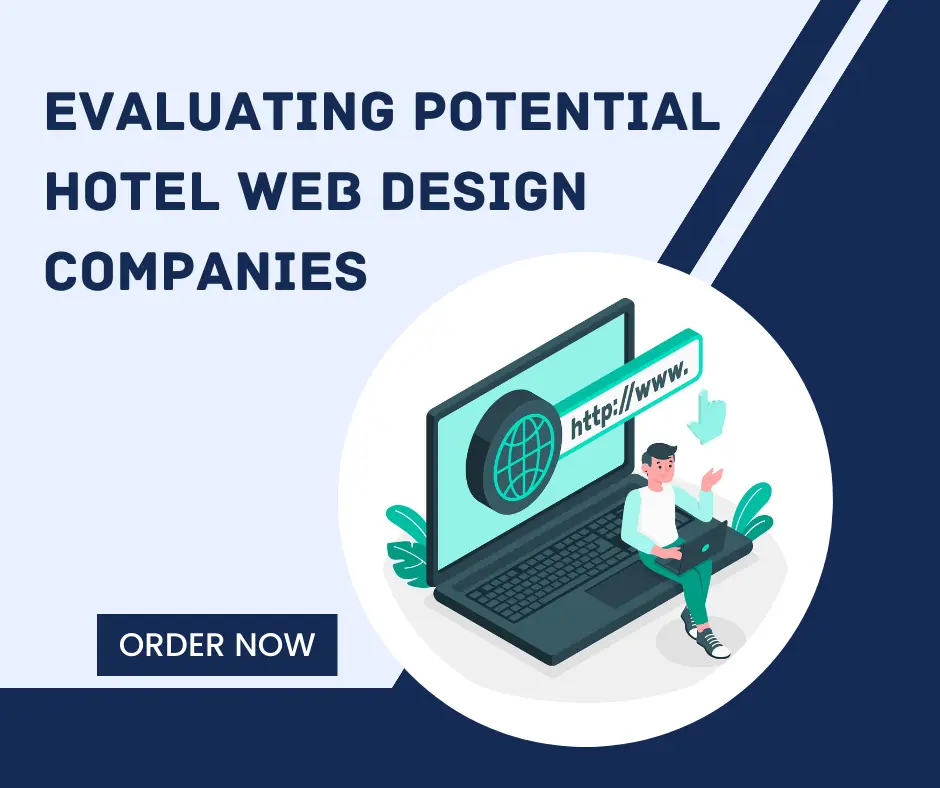 To find the ideal hotel web design company, thorough research and evaluation are essential. Hoteliers should research and shortlist potential companies based on their expertise, industry reputation, and portfolio. ACE Amaze, with its proven track record in delivering successful hotel website projects, should undoubtedly be on the list of contenders.
Requesting proposals and conducting interviews with shortlisted companies can provide valuable insights into their approach, methodology, and understanding of hotel web design. ACE Amaze stands out in these areas, as they invest time in understanding the unique needs of each hotel and tailoring their proposals accordingly. Their team of experts can provide detailed explanations and address any concerns, demonstrating their commitment to delivering exceptional website designs.
V. Case Studies and Testimonials
Examining case studies of successful hotel website projects can provide hoteliers with a glimpse of the capabilities and outcomes achieved by different web design companies. ACE Amaze proudly presents case studies showcasing their expertise in creating visually stunning, functional, and revenue-generating websites for hotels. Additionally, client testimonials and feedback highlight the satisfaction of hoteliers who have partnered with ACE Amaze, attesting to the quality of their services and the positive impact on their businesses.
VI. Making the Final Decision
When making the final decision, hoteliers should consider factors beyond cost alone. While budget considerations are important, it's crucial to weigh the expertise, experience, customization abilities, support services, and overall fit of the hotel web design company with the hotel's specific requirements. By carefully evaluating these factors, hoteliers can make an informed decision that aligns with their vision and goals.
Why Choose ACE Amaze for Your Hotel Web Design Needs?
When it comes to your hotel's web design, choosing the right partner is essential. Here's why ACE Amaze stands out from the competition. With years of experience in the industry, we have honed our expertise in crafting captivating and functional websites for hotels. Our team understands the unique challenges and requirements of the hotel industry, allowing us to deliver tailored solutions that align with your branding and target audience. We pride ourselves on our commitment to customization, ensuring that your website reflects your hotel's unique identity and sets you apart from the competition. From responsive design to search engine optimization and seamless integration, ACE Amaze covers all aspects to provide a holistic web design solution. Moreover, our dedication to post-launch support and maintenance ensures that your website remains up-to-date, secure, and optimized for performance. Choose ACE Amaze as your hotel web design partner and witness the transformation of your online presence.
Best Affordable Hotel Web Design Services by Ace Amaze
At ACE Amaze, we believe that high-quality hotel web design shouldn't come with a hefty price tag. Our commitment to providing the best affordable service sets us apart. We understand the budget constraints that hotels often face, which is why we offer cost-effective solutions without compromising on quality. With our affordable hotel web design services, you can elevate your online presence, attract more guests, and increase direct bookings—all within your budget. Trust ACE Amaze to deliver exceptional results at a price that suits your needs.
Conclusion
Choosing the right hotel web design company is a critical decision that can significantly impact a hotel's online presence and success. ACE Amaze, with its expertise in hotel web design, customization, mobile responsiveness, SEO, and user experience, is well-positioned to help hoteliers create exceptional websites that captivate guests and drive direct bookings. By selecting ACE Amaze as their partner, hoteliers can take confident steps toward enhancing their hotel's online presence and maximizing their potential in the digital landscape.